It's been crickets around here lately, guys, so I decided to, um, revive the community by posting for the first time ever.

I also posted a link to this picture in the current Doper pic thread in MPSIMS.

Front o' the bonnet: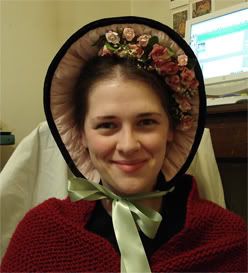 What: Mid-nineteenth century bonnet
Inspiring images: CDV 64, CDV 67, CDV 60, CDV 83
Pattern: Butterick 4210 Historical Hats
Materials: Buckram and milliner's wire from Judith M Millinery, black cotton velvet from the stash, pink silk chiffon from Fashion Fabrics Club, blue cotton muslin from the stash, fabric/plastic flowers from Wal-Mart, polyester satin ribbon from Wal-Mart, lots and lots and lots of craft glue, 1/4" black velvet ribbon, buttonhole twist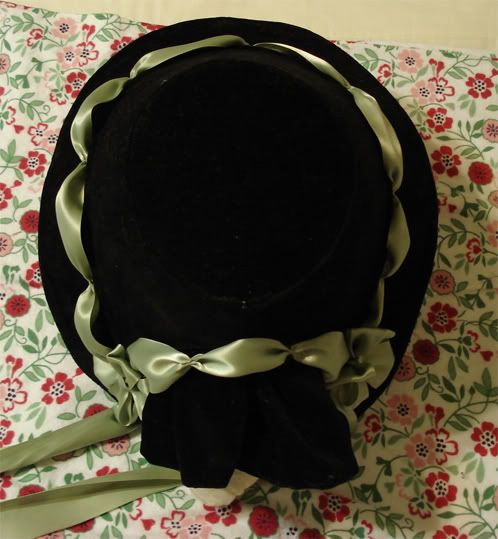 Would I use the pattern again? I don't know. I like this hat, but there features of the pattern I don't like. Like the way the brim attaches to the body of the hat. It makes for a very ugly connection, and you need to have it trimmed there or people will make faces at you behind your back. I'd like to use another view in the same pattern (the dinner table sized Edwardian hat), but I'm sure I'll modify it as highly as I did this one. The jury remains out.

There's a more detailed write-up and more pictures in my journal here.